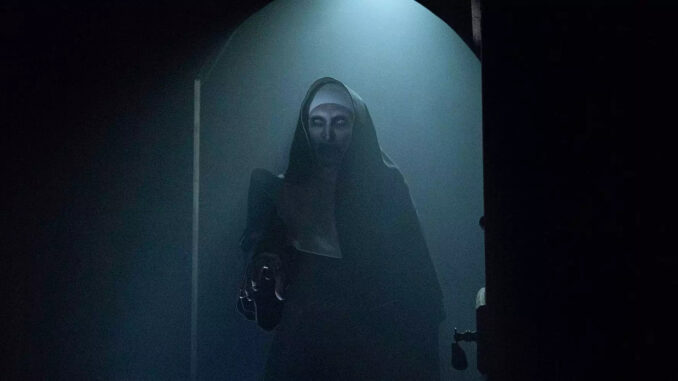 Check out the official trailer from New Line Cinema's The Nun 2, the sequel to The Conjuring franchises hit film!
The sequel takes place in 1956 where a priest is murdered in France and Sister Irene (Taissa Farmiga) is called upon again to come face to face with the evil, sinister Valak aka The Nun.
Taissa Farmiga returns alongside Bonnie Aarons and Jonas Bloquet who will reprise their roles as Valak and Maurice "Frenchie,". The film will introduce new additions to the "Conjuring" universe as well, including Katelyn Rose Downey as Sophie, Anna Popplewell as Marcella and Storm Reid as an unknown new character.
Watch the trailer for The Nun 2 below:

About The Conjuring Universe:
The Conjuring universe of films has brought in a staggering $2 billion franchise since it began in 2013, with the original "The Conjuring" film, starring Patrick Wilson and Taissa Farmiga's sister, Vera Farmiga. The original film was inspired by paranormal investigators Ed and Lorraine Warren's nonfiction book, "The Amityville Horror."

"The Conjuring's" first spinoff "Annabelle" premiered in 2014. Soon after, "The Conjuring 2" released in 2016, "Annabelle: Creation" in 2017 and then the second spinoff, "The Nun" in 2018. Since "The Nun," the "Conjuring" universe has released "The Curse of La Llorona," "Annabelle Comes Home" and "The Conjuring: The Devil Made Me Do It."

Directed by "The Conjuring: The Devil Made Me Do It's" Michael Chaves, "The Nun 2" was written by "M3GAN" screenwriter Akela Cooper and "Fear the Walking Dead" screenwriters Ian Goldberg and Richard Naing.
(Visited 16 times, 1 visits today)