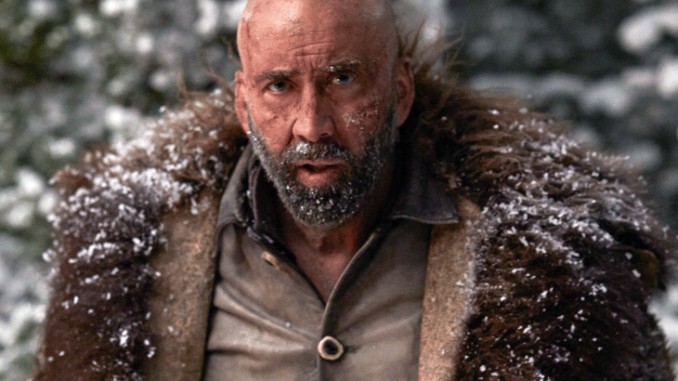 Check out the trailer for the upcoming western Butcher's Crossing starring a very bald Nicolas Cage hunting buffalo for their hides in the old West.
Director Gabe Polsky's film, having had its world premiere at last year's Toronto Film Festival, stars the Academy Award winning actor as an obsessive hunter named Miller who knows of a remote valley in the Colorado Rockies teeming with thousands of buffalo. An obsessed Miller convinces a young Harvard dropout named Will Andrews, played by Fred Hechinger, to finance what proves to be an extremely hazardous trip.
"This film has been many years in the making, and after an epically challenging shoot and a world premiere at TIFF, I'm so excited that now is the time for the world to see it," Polsky says in an exclusive statement provided to EW. "Audiences are in for a harrowing journey and an enigmatic Nicolas Cage performance that explores the nature of ambition — the powerful and destructive energy that has shaped America and our planet."
While attending the film's TIFF premiere in 2022, Cage revealed that his performance was partly inspired by a certain NBA megastar. "Gabe Polsky wanted me to shave the head because he was thinking about Michael Jordan," the actor told EW at the time. "Michael Jordan on the court, and that need to win. Isn't that in Miller? The need to score, to win. I started thinking about it."
Cage admitted his look might also owe a little to Marlon Brando's Colonel Kurtz in Apocalypse Now. "There is a kind of Joseph Conrad, Kurtz view by way of Coppola's Apocalypse Now appearance to the shaved head," Cage said. "It sort of works. It coalesces. It could be both. It could be Michael Jordan meets Marlon Brando in Apocalypse Now."
The cast of Butcher's Crossing also includes Rachel Keller, Xander Berkeley, Jeremy Bobb, and Paul Raci. The movie will be released in theaters through Saban Films nationwide this Oct. 20.
(Visited 26 times, 1 visits today)