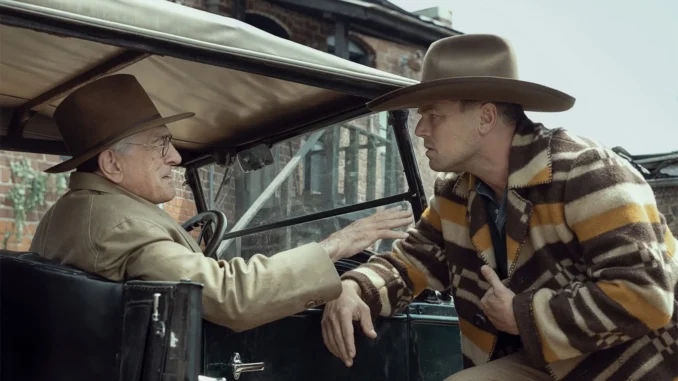 Watch the newest trailer for upcoming epic from Martin Scorsese's titled Killers of the Flower Moon on Apple TV and theaters. In the trailer we get our first look at Leonardo DiCaprio going up against Robert De Niro one on one.
Paramount Pictures has released a new trailer for Killers of the Flower Moon, directed and co-written by Scorsese. The footage sheds further light on the romance shared between DiCaprio and Lily Gladstone's characters, which then puts DiCaprio in direct conflict with his uncle, played by De Niro.
Killers of the Flower Moon Details:
"At the turn of the 20th century, oil brought a fortune to the Osage Nation, who became some of the richest people in the world overnight," the official synopsis reads. "The wealth of these Native Americans immediately attracted white interlopers, who manipulated, extorted, and stole as much Osage money as they could before resorting to murder. Based on a true story and told through the improbable romance of Ernest Burkhart (Leonardo DiCaprio) and Mollie Kyle (Lily Gladstone), Killers of the Flower Moon is an epic western crime saga, where real love crosses paths with unspeakable betrayal. Also starring Robert De Niro and Jesse Plemons, Killers of the Flower Moon is directed by Academy Award winner Martin Scorsese from a screenplay by Eric Roth and Martin Scorsese, based on David Grann's best-selling book.
Starring Leo DiCaprio, Robert De Niro, Lily Gladstone, Jesse Plemons, Tantoo Cardinal, John Lithgow, Brendan Fraser, Cara Jade Myers, JaNae Collins, Jillian Dion, William Belleau, Louis Cancelmi, Tatanka Means, Michael Abbott Jr., Pat Healy, Scott Shepherd, Jason Isbell, and Sturgill Simpson.
(Visited 9 times, 1 visits today)