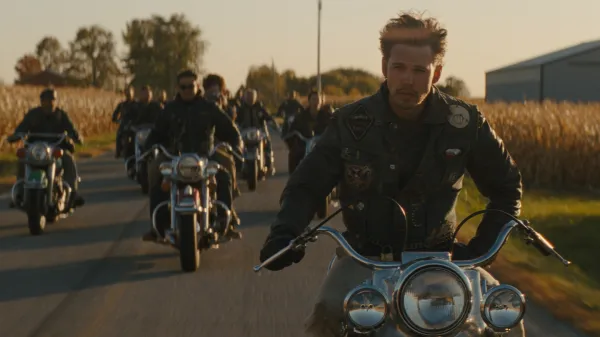 Check out the first official The Bikeriders trailer, the upcoming drama film starring Austin Butler, Tom Hardy, and Jodie Comer.
The trailer for the film gives fans a deeper look at Butler and Hardy, both of whom star as members of a Chicago bike gang. The trailer also features a lot of Jodie Comer, who plays Austin Butler's wife in the film and seems to be narrating the story of Butler and the bike gang.
Check out The Bikeriders trailer below:
nspired by Danny Lyon's 1967 photography book of the same name, The Bikeriders is written and directed by Jeff Nichols. The film stars Hardy (Venom), Comer (Killing Eve), Butler (Elvis), Norman Reedus (The Walking Dead), Michael Shannon (Revolutionary Road), Boyd Holbrook (Logan), Toby Wallace (The Society), Karl Glusman (The Neon Demon), Mike Faist (West Side Story), Damon Herriman (Justified), Emory Cohen (The OA), Beau Knapp (Southpaw), and Happy Anderson (Mindhunter).
"Seen through the lives of its members, the club evolves over the course of a decade from a gathering place for local outsiders into a more sinister gang, threatening the original group's unique way of life," reads the synopsis.
(Visited 10 times, 1 visits today)