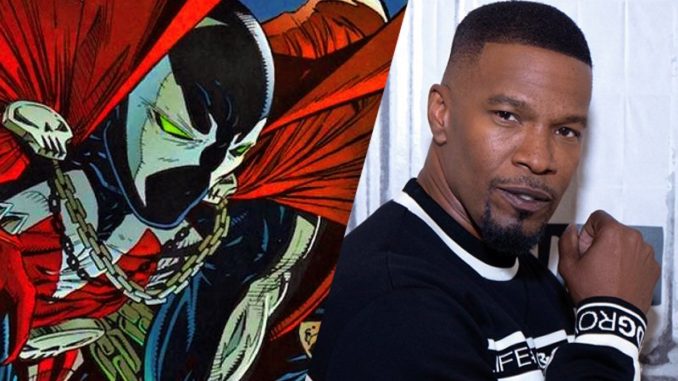 According to Deadline, Oscar winner Jamie Foxx (Ray, Django Unchained) has been cast to play the title role of Todd McFarlane's Spawn reboot!
Writer/creator Todd McFarlane broke the news to Deadline including giving away that the planned route for the film will be a trilogy without any origin story so we won't see anything referencing the original film. See the quotes below from McFarlane, Foxx and Jason Blum of Blumhouse Productions.
"Jamie came to my office five years ago, and he had an idea about Spawn and we talked about it," McFarlane said. "I never forgot him, and when I was writing this script, you sort of plug people in, and he was my visual guy and I never let go of him. When I got done and my agents and everybody was talking about what actor, I said, I'm going to Jamie first and until he says no I don't want to think about anyone else because I've never had anyone else in my head. Luckily, he hadn't forgotten either. I said, 'Hey, I'm back to talk about Spawn again, and he was like, let's do it.'"

"A few years back I flew out to Arizona to meet the man behind one of the most incredible comic book characters in the universe… Todd McFarlane," said Foxx. "He was taken aback when I told him with the enthusiasm of a young child that more than anything I wanted to put my name in the hat to embody his beloved character Spawn…. I told him no one would work harder than me if given the opportunity… well… the opportunity is here!! I'm humbled and ready to transform… and to top things off the young Jason Blum is lending his brilliance to the project! Time to be great!!!! #Spawn."

"We are thrilled Jamie Foxx will be playing the title role in our movie adaptation of Spawn," Jason Blum said in a statement. "He is an incredible actor and a huge fan of the Spawn Universe that Todd McFarlane created. With the depth of talent Jamie can commit to the role and Todd at the helm bringing the world of Spawn to life, we could not be more excited for this film."
Foxx previously starred as Electro in The Amazing Spider-Man 2, and will next be seen as Little John opposite Taron Egerton in November's Robin Hood.
Todd McFarlane will write and direct the Spawn reboot, which he previously confirmed will be "dark and R-rated," even going so far as to say that it would be a harder R than Deadpool. McFarlane also revealed that the budget for the film will be a meager $10-to-$12 million, an atypical budget for a superhero film (which range into the hundreds of millions at Warner Bros. and Marvel Studios) but par for the course for Blumhouse Productions (who specialize in lower-budget features anywhere from $100k to $10 million). With such a smaller scale film, the money for which McFarlane himself is at least partially putting up, allows the filmmaker to share more content with fans from the set, which he promises to do every day of production.
First appearing in 1992's Spawn #1, the character quickly became the symbol for 1990s comics dark and brutal antiheroes. His Hellspawn powers allow him to teleport, shape shift, and utilize a variety of weapons (notably chains) in combat. Spawn previously made the leap to the big screen in 1997 with Michael Jai White in the title role and then on television as an HBO animated miniseries, titled Todd McFarlane's Spawn. The character recently celebrated his 25th anniversary, and will hit over 300 issues sometime next year, taking the record from "Cerebus the Aardvark" of the longest running independent comic book ever published.
(Visited 1,119 times, 1 visits today)