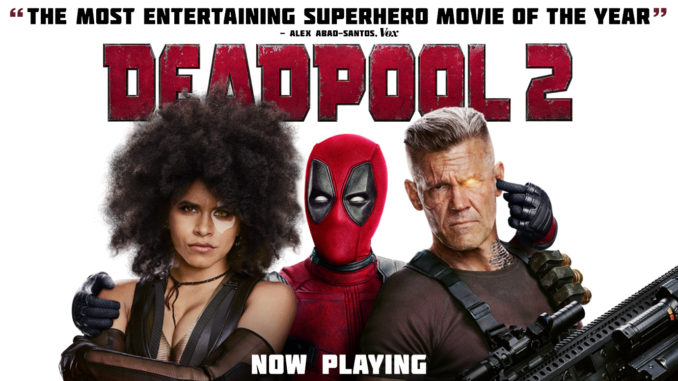 20th Century Fox's Deadpool 2 brought in a massive $301 million worldwide in a huge opening weekend for the superhero sequel.  Domestically the film brought in an estimated $125 million, just behind the first film's opening back in 2016 of $132 million.
Like referenced in our previous article, the film broke records around the world on Thursday and Friday for biggest R-Rated film.
The David Leitch-directed film stars Ryan Reynolds, Josh Brolin, Morena Baccarin, Julian Dennison, Zazie Beetz, T.J. Miller, Brianna Hildebrand, and Jack Kesy.
Other box office results:
2nd place:  Avengers : Infinity War brought in another $100+ million globally while doing $28 million in the US.
3rd place:  Paramount's comedy Book Club opened to a modest $12.5 million which stars Diane Keaton, Jane Fonda, Candice Bergen, Mary Steenburgen, Craig T. Nelson with Andy Garcia and Don Johnson. 
4th place:  New Line Cinema's comedy Life of the Party dropped from second to fourth place this weekend, bringing in an additional $7.7 million and bringing its domestic total to $31 million The film was directed by Ben Falcone and stars Melissa McCarthy, Gillian Jacobs, Maya Rudolph, Julie Bowen, Matt Walsh, Molly Gordon, Stephen Root, and Jacki Weaver.
5th place: Universal Pictures thriller Breaking In fell to fifth place with a total of $6.47 million, bringing its domestic gross to $28.75 million. The movie's budget was just fraction of its total gross so far, sitting at just $6 million. Directed by James McTeigue, Breaking In stars Gabrielle Union, Billy Burke, Richard Cabral, Seth Carr, and Ajiona Alexus.
Finally, Global Roads' family comedy Show Dogs opened to $6 million. The talking dog movie stars Will Arnett and Natasha Lyonne and features the voices of Chris "Ludacris" Bridges, Jordin Sparks, Gabriel Iglesias, Shaquille O'Neal, Alan Cumming, and Stanley Tucci.
(Visited 70 times, 1 visits today)