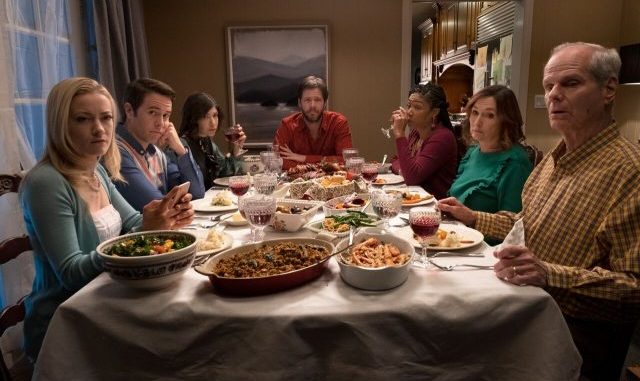 Check out the first official teaser trailer for their upcoming Roadside Attactions' dark comedy film The Oath starring Ike Barinholtz (The Mindy Project, Neighbors, Blockers) and Tiffany Haddish (Keanu, Girls' Trip, Night School).
The film looks to place Barinholtz and Haddish at their family thanksgiving dinner which quickly turns into a violent and chaotic mess due to the family's different political views.
The Oath is described as a savagely funny dark comedy about surviving life and Thanksgiving in the age of political tribalism. When Chris, a high-strung 24-hour progressive news junkie, and his more levelheaded wife Kai learn that citizens are being asked to sign a loyalty oath to the President, their reaction is disbelief, followed by idealistic refusal. But as the Thanksgiving deadline to sign approaches, the combination of sparring relatives, Chris's own agitation and the unexpected arrival of two government agents sends an already tense holiday dinner gathering completely off the rails.
The cast includes Barinholtz as Chris, Haddish as Kai, John Cho (Star Trek Beyond, Harold & Kumar Go To White Castle, Searching), Carrie Brownstein (Portlandia, Transparent), Billy Magnussen (Into the Woods, Ingrid Goes West), Meredith Hagner (Veep, Search Party), Nora Dunn (Southland Tales, Saturday Night Live), Jon Barinholtz (Dumb and Dumber To, Superstore) and Chris Ellis (Armageddon, Murder in the First).
The film is directed and written by Ike Barinholtz.
The Oath will premiere in theaters on October 12th.
(Visited 505 times, 1 visits today)