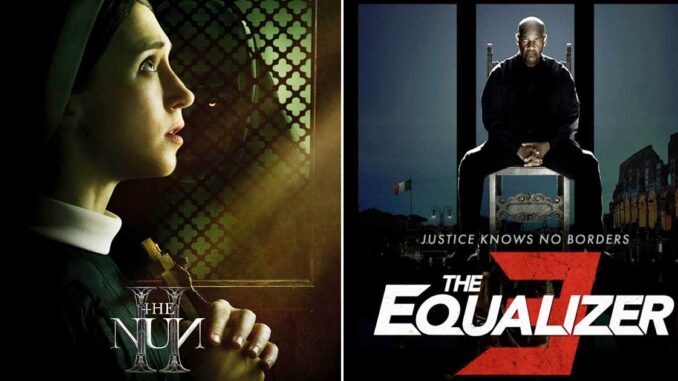 Surprise horror sequel The Nun 2, the latest Conjuring spin-off, scared its way to the top of the domestic box office with a solid $32.6 million haul, per Deadline. That opening lands in the middle of the pack for the James Wan horror franchise, below Annabelle: Creation ($35M) but above The Curse of La Llorona ($26M), The Conjuring: The Devil Made Me Do It ($24M), and Annabelle Comes Home ($20M).
Globally, the horror pic scared up $85M. Audiences awarded The Nun 2 a C+, better than the C given to its predecessor, which grossed $363M worldwide after a $53M debut.
Also opening this week was the comedy My Big Fat Greek Wedding 3, which collected $10M from 3,650 screens. That's below the $17M earned by My Big Fat Greek Wedding 2 in 2016 and obviously much bigger than the $597K made by the original back in 2002. However, that film became a worldwide phenomenon, grossing an astonishing $375M. The sequel only accrued $92M. Weird how this franchise fizzled.
Last week's champ, The Equalizer 3, dipped 65% for a $12.1M sophomore frame, bringing its domestic total to $61.9M. Globally, the threequel zipped past the $100M mark and might reach the $190M attained by its predecessors.
Summer champs Barbie and Oppenheimer continued to do big business. The former has now topped $1.4B at the global box office, while Christopher Nolan's blockbuster surpassed $900M.
1.) The Nun 2 (NL) 3,728 theaters, Fri $13.1M Sat $11.8M Sun $7.7M Sun 3-day $32.6M/Wk 1
2.) Equalizer 3 (Sony) 3,965 theaters Fri $3.4M Sat $5.2M Sun $3.4M 3-day $12.1M (-65%), Total: $61.9M/Wk 2
3.) My Big Fat Greek Wedding 3 (Uni) 3,650 theaters Fri $3.7M Sat $3.7M Sun $2.56M 3-day $10M/Wk 1
4.) Jawan (Yash Raj) 813 theaters, Fri $1.7M Sat $2.4M Sun $2M 3-day $6.1M, Total $7.5M/Wk 1
5.) Barbie (WB) 3,281 (-305) theaters, Fri $1.4M Sat $2.5M Sun $1.9M 3-day $5.9M (-42%) Total $620.4M/Wk 8
6.) Blue Beetle 2,786 (-530) theaters, Fri $850K Sat $1.7M Sun $1.1M 3-day $3.77M (-47%), Total $63.7M/Wk 4
7.) Gran Turismo (Sony) 2,765 (-1,091) theaters, Fri $900K Sat $1.5M Sun $945K 3-day $3.37M (-61%), total $35.7M/Total Wk 3
8.) Oppenheimer (Uni) 2,091 (-452) theaters Fri $800K Sat $1.36M Sun $840K 3-day $3M (-48%)/Total $315.1M/Wk 8
9.) Teenage Mutanta Ninja Turtles…(Par) 2,500 (-455) theaters Fri $570M Sat $1.3M Sun $730K 3-day $2.6M (-44%) Total $111.3M/Wk 6
10.) Bottoms (MGM) 1,265 (+550) theaters, Fri $631K Sat $811K Sun $609K 3-day $2.05M (-33%) Total $7.6M/Wk 3
(Visited 8 times, 1 visits today)