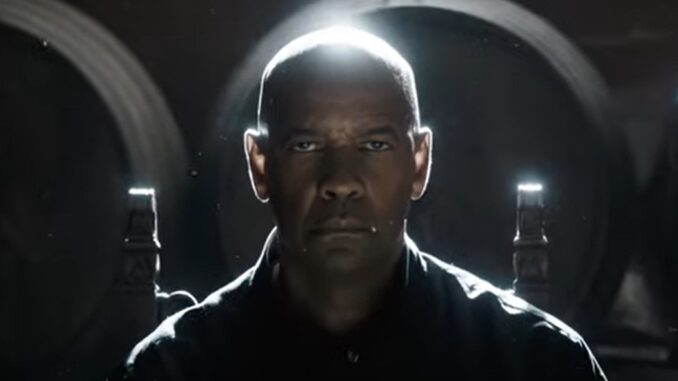 Denzel Washington returns this weekend for one final ride or battle as heartfelt vigilante Robert McCall in "The Equalizer 3."
In the films, Washington plays former intelligence agent Robert McCall who helps people in need why using his very particular set of skills. McCall was pulled from his humble hardware superstore job into a bloody fight against the Russian Mafia in the 2014 film The Equalizer , and returned as an avenging Lyft driver in 2018's "The Equalizer 2 before battling his old mercenary crew of friends who turned corrupt for money.
With nearly $400 million at the box office worldwide Washington, director Antoine Fuqua and screenwriter Richard Wenk came back with "The Equalizer 3" (in theaters Friday), billed in the trailer as the franchise's "final chapter."
In honor of the finale film in the fantastic film franchise, GotchaMovies has put together the best scenes from The Equalizer films. Enjoy!
1 ) Robert McCall Fights Russian Gang (New Meaning To Wine Opener) — (The Equalizer)
2 ) The Battle of Home Mart — (The Equalizer)
3 ) Coffee Wasn't For Closers – McCall Offers Payback To Wall Street Scumbags — (The Equalizer 2)
4 ) Brick By Brick – McCall Puts The Mafia On Notice — (The Equalizer)
5 ) "That's A 3 On The Pain Scale" – Robert McCall Does McCall Things — (The Equalizer 3)
6 ) "I Only Get To Kill You Once" – Robert McCall Confronts Corrupt Pedro Pascal — (The Equalizer 2)
7 ) The Opening Train Scene — (The Equalizer 2)
8 ) McCall's Dinner Is Interrupted, Deadly Diner Scene — (The Equalizer)
9 ) Storm Of The Century – McCall Uses Harpoon — (The Equalizer 2)
10 ) Disrespect The Badge — (The Equalizer)
(Visited 36 times, 2 visits today)