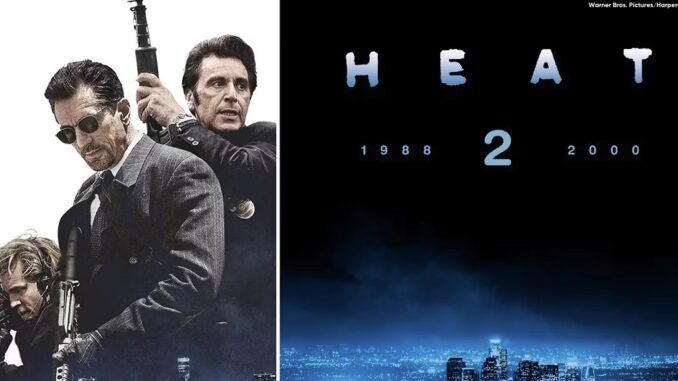 Will Heat 2 ever get made? Well, according to Michael Mann, he still very much wants to make the sequel to the 1995 hit cult classic starring Robert De Niro, Al Pacino and Val Kilmer.
In 2022, Mann published a novel titled Heat 2 which would serve as both a prequel and sequel to the film Heat focusing a lot on Kilmer's character.
Speaking with Variety, Mann discussed if he is running out of time on making the 2nd film:
"The thing is, I don't think about mortality. I'm busy," Mann said. "What good would it do me? If I absolutely had to make Heat 2, I wouldn't have got lost in this beautiful story of Ferrari. And I took two years to write a novel."

"Fortunately, it became a New York Times No. 1 bestseller," Mann added. "The things I'm into are things that fascinate me and keep me moving forward."

"Don't misunderstand. I want to make it," Mann added. "But if I don't, I won't be incomplete."
Here is what Heat 2 would be about:
Heat 2 begins one day after the film ends, with Chris Shiherlis trying to escape Los Angeles while LAPD detective Vincent Hanna hunts him down. The novel then travels back to 1988 and explores the parallel lives of Hanna and Neil McCauley in Chicago. Heat 2 explores the rise of Hanna and McCauley in the late 1980s with the aftermath of their showdown in 1995.
Written and directed by Mann, Heat starred Robert De Niro as McCauley and Al Pacino as Hanna. The film marked the duo's first on-screen appearance together. The ensemble included Val Kilmer as Chris Shiherlis, Jon Voight as Nate, Tom Sizemore as Michael Cheritto, Amy Brenneman as Eady, and Ashley Judd as Charlene Shirherlis.
Mann confirmed to Variety that Adam Driver had been in talks to play the younger version of De Niro's McCauley before the strike. Driver is set to star as Enzo Ferrari in Mann's Ferrari, which will have its world premiere on August 31 at the Venice Film Festival. Ferrari is then scheduled to be released in theaters on December 25.
Watch the trailer for the first film Heat:
(Visited 7 times, 1 visits today)