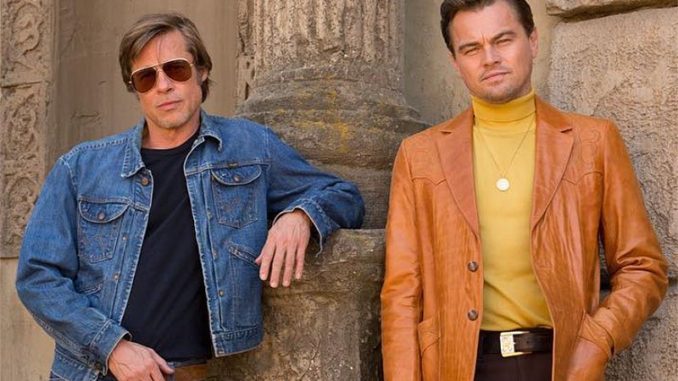 Get your official first look at Leonardo DiCaprio and Brad Pitt in Quentin Tarantino's upcoming true-crime drama Once Upon a Time in Hollywood, courtesy of Leo's Instagram account.
The film's cast is one of the most impressive ever put together by a director/studio and includes Leonardo DiCaprio (Django Unchained), Brad Pitt (Inglorious Basterds), Margot Robbie (I, Tonya), Burt Reynolds (Smokey and the Bandit), Timothy Olyphant (Santa Clarita Diet), Michael Madsen (Sin City), Tim Roth (Selma), Damian Lewis (Billions), Luke Perry (The Fifth Element), Emile Hirsch (Speed Racer), Dakota Fanning (The Alienist), Clifton Collins (Pacific Rim), Keith Jefferson (The Hateful Eight), Nicholas Hammond (The Sound of Music), James Marsden (Westworld), Julia Butters (Transparent), Scoot McNairy (Halt and Catch Fire) and Al Pacino (Scarface).
Set in Los Angeles in the summer of 1969, Once Upon a Time in Hollywood focuses on a male TV actor named Rick Dalton (DiCaprio) who's had one hit western series and is looking for a way to get into the film business. His sidekick Cliff Booth (Pitt) — who's also his stunt double — is looking for the same thing. The horrific murder of Sharon Tate (Rick's neighbor in the film, portrayed by Robbie) and four of her friends by Charles Manson's cult of followers serves as a backdrop to the main story. The movie is said to be similar to a "Pulp Fiction-like tapestry" that covers a group of characters during that summer.
Production for Once Upon a Time in Hollywood is currently underway in Los Angeles for Sony Pictures and the film is slated for release on August 9th, 2019.
(Visited 167 times, 1 visits today)