#5 – Bruce Willis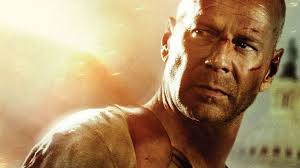 Bruce Willis is one of the most well known actors in Hollywood. Some fun facts about Bruce:
His real name is Walter Bruce Willison.
He started his career as a security guard and later a private investigator.
He is a great bowler and has scored a 283 (have you scored higher?).
He started Planet Hollywood restaurants with partners Sylvester Stallone, Demi Moore and Arnold Schwarzenegger.
He was married to Demi Moore.
Onward to some of his best movies:
Die Hard, Unbreakable, Pulp Fiction, The Fifth Element, The Sixth Sense, Armageddon, the Whole Nine Yards, The Last Boy Scout, Sin City, 12 Monkeys, the Expendables 2.
Some of the best Bruce Willis Scenes
https://youtu.be/q1_2zdluyzA
(Visited 4,323 times, 4 visits today)